Master's Hall of Fame inductee Kru Alberto Ramirez is one of two head instructors at Chaisai Muay Thai Seattle. Kru has been involved in the martial arts for over 43 years. Kru Alberto is the Washington state representative for the USMTA (United States Muay Thai Association) and the W.K.F. (World Kickboxing Federation). An American born of Korean and Puerto Rican descent, he began Tae Kwon Do at the age of five and holds black belts in Tae Kwon Do and Chokushinkai Karate.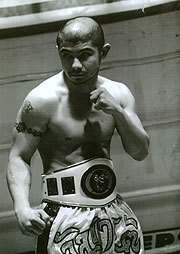 Competing in over seventy different tournaments, he was awarded numerous gold medals and 1st place tournament wins in Tae Kwon Do and sport Karate, including the Pan-Am and Junior Olympic games. Other prestigious wins and distinctions include a 1st place win in the Sabaki Satellite in Seattle, Washington, as well as the K-2 tournament in Osaka, Japan, where he was awarded 'best fighter' in all weight divisions of the tournament.
"Coming from a traditional martial arts, point-oriented background, I craved more contact. The natural progression for me as a martial artist was to seek a more full-contact fighting style. This led me to kickboxing and then Muay Thai."
He traveled world wide training and fighting in Thailand, Myanmar (Burma), Australia, Belarus, Japan, Canada, and the fight capital of the world, Las Vegas, Nevada. Before retiring he obtained four world titles.
Known for his relentless attack with devestating leg kicks and crushing right hand power, he established himself as one of the strongest pound-for-pound fighters in the world. In 2001, he made history as the first American to fight bareknuckle against the Burmese Golden Belt Champion, representing the United States on a promotion held in Yangon, Myanmar (Burma).
Kru retired with a professional record of 33 wins and 7 losses with 31 of his wins coming by way of knockout.
Kru Alberto founded Chaisai Muay Thai in 1997 in Tacoma, Washington. Over the last twenty five years, Chaisai (meaning "victory" in the Thai language) has built a reputation of producing the best stand-up fighters to come out of the Pacific Northwest. He developed many fighters from amateur to the professional level, competing all over the world, winning local, national, and world titles. Each of his fighters were cultivated from his system of training, not inherited from another school or instructor. Having grandfathered the sport of Muay Thai in Washington State, up until recently, his school stood alone for several years as the only authentic Muay Thai gym around. Some of Chaisai's former fighters and assistant instructors have since begun teaching standup within local MMA gyms, carrying on the lineage of his teaching.
"I've had the privilege to have trained with some of the best instructors in the world. I would not be the teacher that I am today without the training and mentorship of these men, Master Donald P. Hagedorn Jr.,Master Michael Cairns, Haru Shimanishi, Master Chan, and Grand Master Toddy."
---